All About Me
Kari- Hi there! I'm the one who first built the site! If you have any complaints, comments, or want to use something from this site just ask me! I like to draw and write and...I LOVE anime! I prefer shoujo manga, but I'll pretty much read anything. I've recently discovered the wonders of fan fiction. Though, I haven't written any CCS fics yet, I am working on a Touya+Tomoyo fic. ^^

Site- Cherry Blossom Dreams was started Sunday, July 28, 2002. Since then I have added anything CCS I could find! I have no stolen content, though I did (with permission) use images from other sites. My layouts aren't anything special, but I keep finding out more things on my computer programs to help improve the site.

My Top 5 Favorite Manga: 1. Cardcaptor Sakura 2. Kodomo no Omocha 3. X/1999 4. Kare Kano 5. Fruits Basket Position: Web Mistress Fave Non-manga Book: Lord of the Rings (1-3) Fave Food: Ice-cream, Cherries, Chinese Noodles Fave Color: Light Purple, Light Pink and Blue E-mail address: sweet_anime_angel@hotmail.com

Tests I've Taken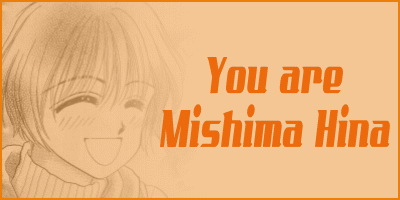 To find out which character from the shoujo manga, Penguin Brothers, you are click on the pic above. I'm Hina!
Digimon use to be my fave. I loved Hikari... and that's where I got the name Kari from. I took a test, and I am most like her!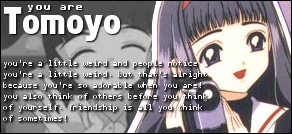 Yay! I am most like Tomoyo! (I LOVE her!) Find out which CCS character you are!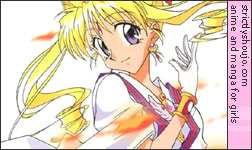 I'm most like all of my fave characters so far... I am most like Maron/ Jeanne from Kamikaze Kaitou Jeanne. Find out which magical girl you are!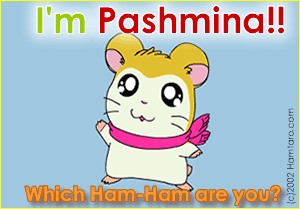 I am the kawaii Pashmina! Which ham-ham from Hamtaro are you?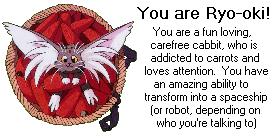 Find out which Anime Pet you are! I am my favorite lil' cabbit, Ryo-ohki!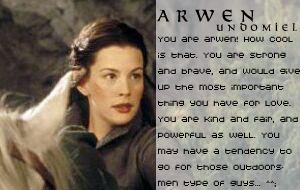 My new favorite, The Lord of the Rings. I am most like the elf, Arwen. Yay! Which LotR character are you most like?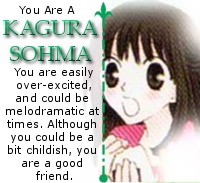 Yes, I think I'm very similar to her... This is a cool test to tell you which Fruits Basket character you are most like!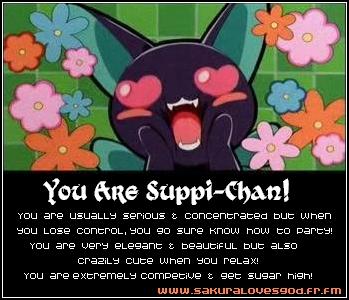 I am most like Suppi! Take the Clow Guardian Test. Hmm.... the characters I'm most like don't really have similar personalities... I can't find a pattern... -_-
Disclaimer: I did not create any of these tests! I do not take any credit. Their creators should be listed on the page (the link) with the test.